Environmentally Friendly – Soft Plastic Packaging: Compostable, Biodegradable, Recyclable – Which option is best?
As consumer demand for environmentally friendly packaging options continues to grow, companies need to consider their product requirements in combination with their approach relative to the 2025 National Packaging Targets on soft plastics. So which option is best?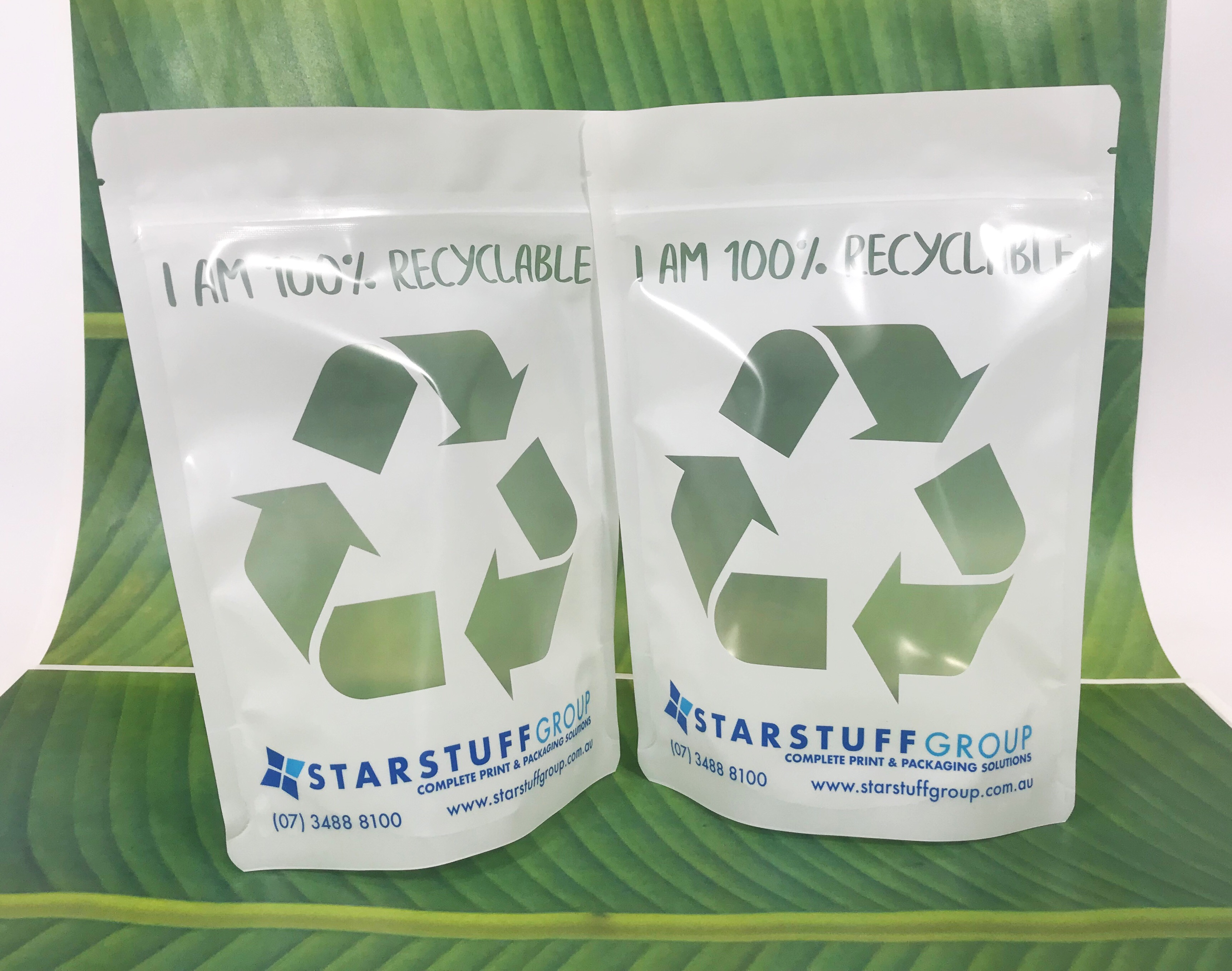 The reality is, there is no one simple answer, and to provide some perspective for your packaging objectives below are some factors for consideration;
Key priorities: What is the product you are packing? Certain products / ingredients may be restricted by the ideal substrate to provide the product with suitable barrier properties to deliver quality freshness and shelf-life essential to ensuring commercial viability of the product. Consider the benefits verses the compromises accordingly, to determine which substrate will achieve your desired goal outcome objectives, while still utilizing a sustainable approach.
In terms of soft plastics, whether compostable, biodegradable or recyclable, the challenge that exists is the reality that Australia's current post-consumer waste recovery facilities are not where they ideally need to be to work alongside these packaging options. The availability of resource centers often differs greatly between government areas as well, which puts the responsibility back on the consumer to discard of the packaging correctly.
Compostable Packaging
To be accredited, compostable packaging must leave no toxic element to the environment after degradation. It is an important distinction to note that compostable products are deemed biodegradable, however not all biodegradable products are compostable. Important note: Compostable Packaging is not recyclable.
In Australia, there are two standards for compostable packaging: Compostable AS4736-2006: Which requires industrial composting under set conditions. It is only accepted with councils that offer a FOGO (Food Organics and Garden Organics) collection service. Home Compostable AS5810-2010: This product is suitable for home compositing with food scraps and organic matter and garden waste, where a consumer has this facility available at home.
So what is the difference between packaging that is Compostable AS4736-2006 to Home Compostable AS5810-2010? The Compostable products that require industrial composting require a lot higher temperatures and specific processing conditions to break-down compared to Home Compostable products.
From a packaging substrate perspective, compostable substrates are gaining interest and popularity. The key issue that remains is our current infrastructure limitations on post-consumer waste processing to ensure the life cycle of the package is managed successfully to achieve composition. Many home compostable options also require specific environments for decomposing, meaning that household users would need an actual home-composting system at home, rather than discarding of the packaging into kerb-side collection bins for garden or waste.
Biodegradable Packaging
There are many definitions of Biodegradable Plastics, they are typically referred to as those products that are derived from a plant-based derivative. The most common plant based bioplastic is PLA (polylactic acid) and like compostable options, PLA bioplastics require specific parameters to be able to be processed to achieve biodegradability. Be sure to note, there is however many non-plant based biodegradable plastics and oxo-degradable products that have added filaments and chemicals that whilst they break down under specific parameters, they can leave harmful micro-plastics particles in the environment. Important note: Biodegradable Packaging is not recyclable.
Based on mounting scientific research, biodegradable and compostable packaging options that currently exist in Australia, coupled with the inaccessibility to appropriate waste recovery systems, means that these options are often a poor match for a major percentage of packaging uses.
Rigid plastics that fall into the main recycling code categories in most council areas of Australia are collected via regular bin collections. The challenge begins with the recycling of soft plastics, which do not flow through to material recovery systems as they are incompatible with current processing facilities and thus not recyclable through our kerb-side collections.
There are several initiatives with various councils that currently exist. The most prominent recycling stream for soft plastics is with REDcycle (with Retail Drop off points) where soft plastics are being collected, recycled and processed into new products. To be accepted into this stream, there are several guidelines and parameters set that dictate not only what substrates are accepted, but also the overall maximum percentage of some substrates allowed. Currently, these rules include the majority of soft plastic packaging you currently see in stores; however, these are ever changing, and new rules will be coming into effect in line with APCO's (Australian Packaging Covenant Organization) 2025 National Packaging Targets. The proposed new guidelines will see zero tolerance for common substrates such as PET, PVDC, Aluminum Foil among many others. These guidelines are a work in progress, however, packaging consumers should be aware of these changes so they can better prepare their packaging systems in a way that meets sustainability targets, as well as compatibility with their product.
In simplist terms, the 2025 National Packaging Targets for soft plastic recycling will encourage users to preferably use a polyolefin (mono/single layer) of PE or PP, or a combination of both or multiple layers to suit the application. The films will also ideally be made up of clear unpigmented substrates, or minimal or selected colors set out by APCO. Users will also need to ensure that combinations of packaging (such as labels onto secondary packaging) are produced using the same substrates, where separation cannot be done (e.g. PP labels on a PP pouch). Lastly, consumers should, where possible, incorporate a percentage of recycled content, as well as utilize an ARL (Australasian Recycling Label) to educate end-users on what, where and how to recycle their package.
The optimal packaging for your product will fundamentally be determined by the actual product being packed and it's needs, as well as the companies' overall values, goals, and objectives relative to the sustainable targets set out by APCO. Ticking sustainable objectives in packaging should be prioritized but should always be done without compromising the product integrity, quality, freshness, and shelf life.
Fortunately, Star Stuff Group are well experienced in all things packaging and are constantly keeping up with the ever changing standards for sustainable packaging, so that we can offer our customers accurate and relevant information. We have a wealth of knowledge covering all soft plastic substrates, and can recommend suitable options for all packaging uses, so that you feel comfortable you are making the correct decision for your products.