New Printer Gives Star Stuff Group More Options for Custom Packaging
Star Stuff Group is pleased to announce the arrival of its newest production member the – HP Latex R1000 Flat Bed printer, which provides a new standard in print production technology and gives us even more custom packaging solutions. Commanding the ability to print on a wide range of flexible and rigid substrates up to 5cm […]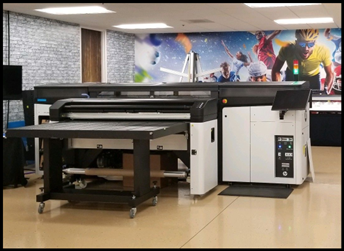 Star Stuff Group is pleased to announce the arrival of its newest production member the – HP Latex R1000 Flat Bed printer, which provides a new standard in print production technology and gives us even more custom packaging solutions.
Commanding the ability to print on a wide range of flexible and rigid substrates up to 5cm thick, using eco friendly water based inks providing odourless print.  Utilising flexible ink technologies with the glossiest of white, supporting vivid colour production and high quality print process application the HP Latex R series printers are a well documented game changer in the print industry.
There is a significant range of substrates to print on from paper, films, synthetic substrates, rigid plastics, timber, acrylic, PVC foam, corflute, polycarbonate sheets, honeycomb board, metal, boards, fabrics, glass, ceramic tiles, canvas and more.  The ability to transform the seemingly impossible into unique product concepts for an extensive range of applications.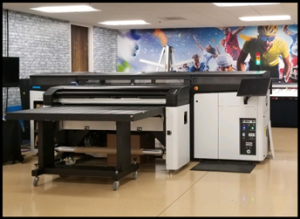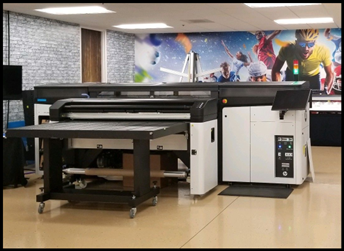 What does this mean for Australian made product options from Star Stuff Group?
Retail & Event Promotional and Marketing Products
The HP Latex R1000 offers the ability to provide brand colour consistency across rigid and flexible substrates using one printer!
In Store Promotional Display Stands – large format signage inserts
Window Signage and Decal Graphics for eye-catching features.
Signs for Back-Lit stands
Wobblers, Shelf Talkers, Floor Decal Graphics
Outdoor Signage, Banners, Canvases, Flags, Sails
Counter Displays, Shipper Cartons,
Stand-alone product display stands
Mailer Cartons, E-Commerce Mailers and Gift Boxes
Packaging Productions
Providing flexibility for short runs as required to create high-impact customized packaging.
Flexible HP Latex Inks allow superb bending and folding without cracking – makes this print quality and end results speak for itself.
Mailer Cartons , E- Commerce Boxes, Subscription Boxes, Packaging Cartons
Carton / Product Sleeves
Gift Boxes, Carrier Cartons
Folding Cartons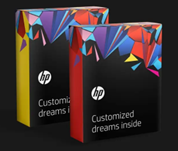 Commercial
HP Latex Inks, are harmless, odourless and with a high efficiency curing system, prints come out dry enabling instant lamination.
The ink composition does not compromise the recyclability of the base substrate
Vehicle Wraps
Window Blinds
Wall coverings
Textiles
Tiles
Backsplashes
Back lit signs for bus shelters, train stations
Real Estate Signs
Office décor items
Corporate Gift Cartons
The HP Latex R1000 will provide us the ability to provide once off unique items from office reception feature walls, custom décor prints, boutique gift boxes to back-lit acrylic retail display signage with the options being wide and varied enabling extreme " think outside the box" opportunities. We would encourage you to reach out to Star Stuff Group with your project or idea and we can assist to create and produce a product solution to match you specific needs.